The Champs Elysées are red. Thousands of Moroccan supporters gathered tonight after the Atlas Lions' victory against Portugal and their historic qualification for the semi-finals of the World Cup in Qatar. On the Parisian avenue, the atmosphere was colorful and deafening amid car horns, roaring engines, fireworks and smoke bombs.
Escorted by a cordon of CRS along the Champs, the supporters flocked as soon as the game was over, already heated in the metro stations where the announcements of the RATP were inaudible, covered by the Moroccan national anthem sung by the crowd.
All the people there shared this general euphoria. All generations were represented and many came with their families. "It is the most beautiful joy I have known since the birth of my children", exclaims 53-year-old Souad, who has come with her daughter Samia, hoping that there will be no flooding. A major security device was pre-emptively deployed to contain reactions to the day's quarter-finals, Morocco-Portugal and France-England. The Paris police station had announced the mobilization of "1,220 policemen and gendarmes" in civilian clothes and in uniform from 4 p.m. in Paris.
"It's indescribable, it's just beautiful!shouts Nadir, 22, Hakimi's sweater on his shoulders. Nobody would have bet on us at the start and yet we are here. »
Relive the encounter:
Morocco's historic qualification for the semi-finals of the World Cup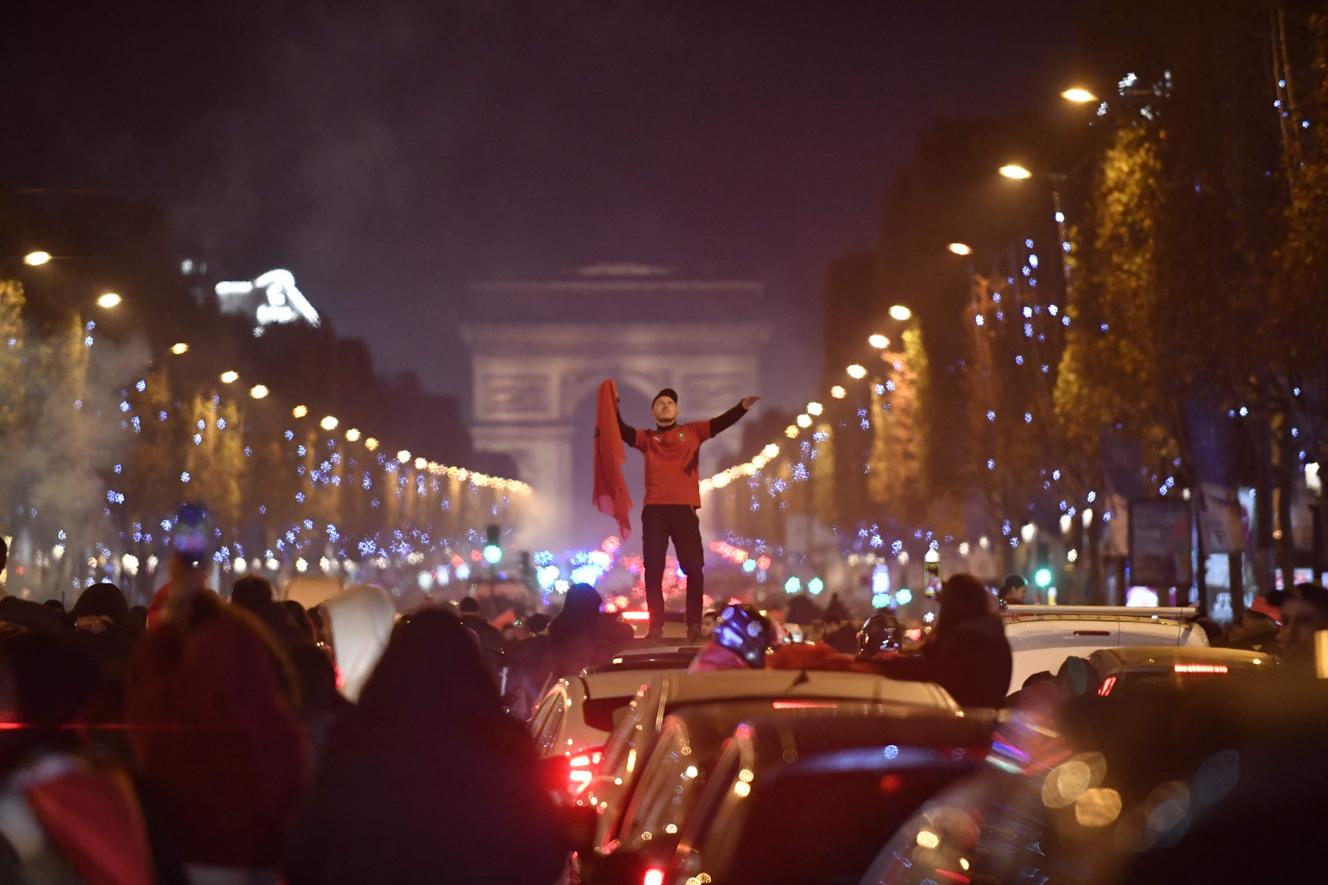 In addition to Morocco's victory, it is a historic qualification that we celebrate with, for the first time in the history of the competition, an African country in the semi-finals. "It is the victory of a country but also of a continent, the whole of Africa is behind us", smiles Raja 33, she also came with her family with her ten-year-old children. It is not Abel, 18, Algerian flag hanging around his neck, who will contradict her. "I am very proud," he says. With this World Cup, it is finally the Arab world that shines. » He heads up the Champs and meets Mustapha, 35, who proudly shows off his Senegal flag. "You did it for Africa! »he shouts to the cheers of the Moroccan supporters.
Many are only waiting for one thing: a France-Morocco semi-final. "It would simply be an unforgettable match"slice Yuness, 42, Moroccan who came to Paris on a trip. "It will be very difficult, because France is my country of adoption and heart. continues Raja. We'll see who we are for. In any case, we will have won. »
Read also:
Article reserved for our subscribers

Morocco-Portugal: In Casablanca, the Kingdom has "already won"